Want to Add More Square Footage? Here Are 7 Room Addition Ideas
December 2, 2018
---
There are many reasons why homeowners decide to add rooms to their home. For instance, their family is growing or their needs are changing.
Whatever your reason for needing a room addition, you can count on remodeling contractors in Los Angeles to do the job. But what happens if you know you want more square footage, but not exactly sure of how you'll use it?
Then this calls for some inspiration. Let's take a look at several ways you can add rooms to your property.
Add a Second Story
Now, you don't have to add a complete second story for the remodeling of your Los Angeles home. Instead, you can have only a portion of the property with a second story.
For instance, you can have a small area over your kitchen and living room to host two additional rooms and a restroom. This is a great idea if you're looking to accommodate a growing family or to make room for a workout space and office.
Another option is to put a room above your garage. You can even make them connect. This can work out great if you're planning to use the room as a rental. This way, they have direct access to the garage.
Transform Your Basement or Garage
Sometimes, you don't have to knock down walls to add space to your home. This is especially true when you have extra space you're not using in the basement or garage.
These two areas are widely underused, but this can change for your home. Turning these areas into livable spaces is easier than you think. With remodeling contractors in Los Angeles, you can turn these areas into bedrooms or even full out studio apartment.
Add Space to Your Kitchen
Who doesn't want a little (or a lot) more space in their cooking area? With the help of kitchen remodeling contractors in Los Angeles, you can make this happen. For example, you can add a storage room to house more of your food products and appliances.
This can help clear up clutter on your counters and in your cabinets. Another reason to add space is for the eating area. If you lack a place to set a table, then this is an excellent time to open up the floor plan.
Make Your Bathroom Larger
Say you have a master bathroom you feel needs more space. For example – to fit your large set in bathtub or a large shower stall.
Ask the right questions #homeremodelinglosangeles#newhomeconstruction #exteriorremodeling#roomadditioncontractorlosangeleshttps://t.co/JCMD4k1xii

— GreenworksDesign (@GreenworksConst) February 28, 2018
If space won't allow you to install these items, then it's time to work with a bathroom remodeling contractor in Woodland Hills. You can also do the same for your guest bathrooms.
You can use this additional space for storage, larger vanities, a large tub, and so on.
Let's also point out that renovating your bathrooms can generate an ROI in the event you sold your home. Focus on adding style and functionality and you have yourself a winner, whether you decide to sell or keep the home.
Add an Extra Bathroom
On the other hand, you can opt to add an additional bathroom to your household. This too can boost your home's value.
You can choose to add a bathroom in the hall for guests to use. Or you can make life more extravagant by implementing bathrooms into the bedrooms.
Giving your home more than one master bedroom can make it very appealing on the market.
Build a Sunroom
Sunrooms are still quite popular, especially in areas where it gets cold during the winter. What's great about sunrooms is that they make great sitting rooms.
Some homeowners decide to use them for growing plants or even playrooms. Either way, they make great locations for enjoying the outdoors without stepping foot outside.
Add a Back Patio
If sunrooms aren't for you, you can always go for a patio. You can choose to either have this open or enclosed with screens or glass windows.
Patios are great hangout spots for family and friends. If you're planning to invest in your backyard space, then this is the perfect setup to enjoy it.
Then if you have a pool, consider even adding a deck and attaching it to the patio.
Working with Remodeling Contractors in LA
Ready to start remodeling your Los Angeles home with beautiful add-ons? Then it's time to connect with reputable contractors at Greenworks Construction and Design.
We have licensed, bonded, and insured professionals who can assist with the design, as well as the construction of your room addition. We work together with homeowners to ensure they get exactly what they're looking for.
If you're looking for a room addition, then contact us today to get started with your free quote!
November 8, 2023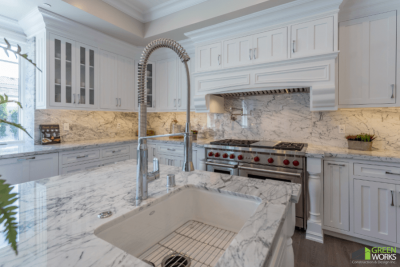 January 16, 2017
March 16, 2020