Greenworks Construction also specializes in exterior work, where we provide complete exterior remodeling services from paving, deck/patio installation, painting, gutters, windows installation, and roofing. The exterior of your home is generally the first thing people see. As a first impression you want to make sure it offers curb appeal. That's where we come in. Greenworks Construction & Design offer up our expert hardscapers and landscapers for all your exterior renovation needs. We offer an extensive variety of exterior services and all work is completed from start to finish by our certified employees. Greenworks will be by your side every step of the way.
Roofing and stucco can have any old house looking new and ready to weather any conditions. A simple update such as a paint job or a siding re-face can breathe new life into your home and give it a face lift.
Whatever the job, big or small, you want to make sure it's done right. Call Greenworks Construction today and experience our satisfaction guarantee philosophy.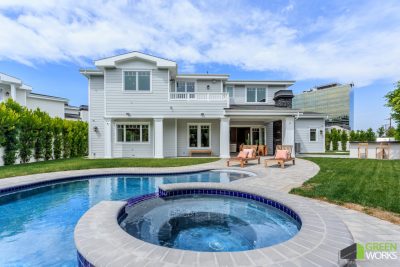 BACKYARD TRANSFORMATIONS
Whether you are striving for more privacy or plan to regularly entertain, we offer backyard transformations to suit your needs. Exterior remodeling can transform this area into a functional space that has a seamless indoor/outdoor flow while extending your living space. Make your yard an additional TV room, party central, a garden oasis or arboretum, kids' play area, or whatever you desire.
SWIMMING POOLS
We offer creative swimming pool design solutions. And, unlike other construction companies, our designs take all aspects of landscape and pool construction into consideration for this new addition in your home. We take your style ideas and solve the puzzle of aesthetically and efficiently engineering it. Our swimming pool styles range from infinity edge and formal pools to natural and informal pools.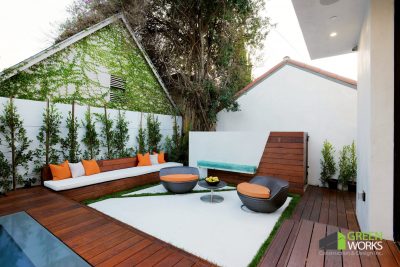 DECKS & PATIOS
Decks and patios serve as a place where your family can enjoy the outdoors. Plus, our well-crafted deck solutions will add value to your home. Whether you are looking for a wood deck or a cement, tile, or brick patio, our professional home remodeling contractor have the skills and experience to create the ideal backyard addition for your Los Angeles home.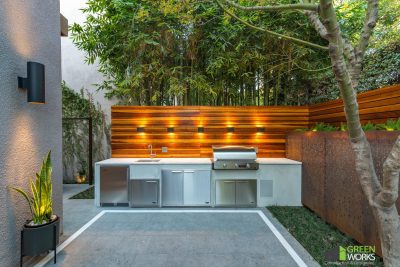 OUTDOOR KITCHENS
Pool parties, barbecues, relaxing with friends, patio parties: just about every get-together is improved with an outdoor kitchen. Our experts pay close attention to your needs during the remodeling, and do all that they can to exceed your expectations throughout the construction of your new outdoor kitchen. We build gas side burners, barbecue grills, roasting spits, pizza ovens, wet bars, and more.
HARDSCAPE & MASONRY
Our Los Angeles construction team is experienced working with a broad range of materials, including asphalt, concrete, brick, flagstone, stone, marble, tile, and anything else you need for your hardscaping project. We improve your home's curb appeal with concrete or paved driveways, fireplaces and pits, retaining walls, walkways and garden pathways, fountains, and much more.
Contact us today for a free quote. Remember, no job is too small or too big for our experts.