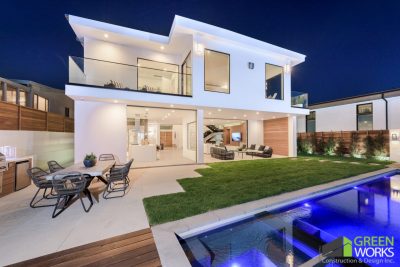 Going Green with New Home Improvements
January 11, 2020
---
Step into this new and exciting decade feeling greener in more ways than one. Across America, as well as globally, there has been a pivotal step and necessary push to live a life of symbiotic harmony with the environment. We see this in a myriad of examples and evolution in our everyday lives, from simple lifestyle changes to government policy. We can no longer walk a path of naivety about how our human consumption, building, and practices leave a negative and harmful effect on the planet. More so than ever before, we must have a discerning eye when choosing our products, clothing, modes of transport, and- our building companies. It has become increasingly important to carefully sift through the many available contractors, architects, and designers to find the ones that pay special attention to how and what they build.
Green Works prides itself on being a company that makes intentional design choices and material picks that not only work with the environment, but they satisfy an inherent need for style, innovation, and curiosity. Here are a few ways Green Works employs eco-conscious practices for each job, regardless of size or budget. Whether you're looking for the right company to hire for bathroom remodeling Malibu CA, a room addition contractor Los Angeles or simply searching for Home Remodeling Los Angeles, was the company to get the job done.
Careful Consideration of Building Materials
We never settle for cheap, built-to-break building materials. We choose quality, safe and sturdy materials when building, renovating or landscaping a home. This use of top-notch materials ensures longevity, quality, and value of your home, which also means you won't have to deal with replacements or repairs in the decades to come. Home improvements, updates, and repairs are not only costly- they're bad for the environment. During demolitions and tear-downs, we witness the removal of mountains of low-end products, toxic and harmful materials and senseless structural failure. We recognize that much of American building practices over the past 100 years were not designed or even intended to last. Cheap materials create much more waste over time than the slightly more expensive, built-to-last quality products. We also offer our clients materials such as recycled particle wood flooring that is inherently eco-forward. We choose to build our projects with the best materials and have great relationships with our material suppliers, ensuring competitive prices and on-time goods.
Implementing "Green" Household Features, Technologies and Strategies.
At GreenWorks, we utilize energy-efficient appliances, and upgrades when working on a home. This is not only a big cost-saver, but it also ensures that the usage and overall impact the home has on the environment is low and efficient. This is how everyone needs to be thinking and building in today's changing environment. We choose to lead by example by introducing and educating our clients on the benefits of green home features. Things like building with the awareness of rainwater run-off, collection tanks, placement of windows, and integration of solar technologies all aid in mineralizing the home's carbon footprint. We also install Energy Efficient Windows to effectively reduce energy costs by eliminating the need to overcompensate for air leakage and entry during both the summer and winter months. In addition to windows, Green Works builds "cool roofs" on many of our homes. White Cool Roofs absorb much less sunlight and therefore remain cooler on a sunny day, which reduces the transfer of heat into the top floor of buildings and lowers indoor air temperatures. This means less need for A/C during the hot summer months, saving money and carbon footprint.
These are just a few ways in which GreenWorks aims to build a greener, cleaner homes and businesses now, and into the foreseeable future. Improving our client's energy efficiency reduces greenhouse gases, which consequently contribute to the climate crisis. We feel it is our duty to lead by example in fighting climate change and constructing with preventatives, rather than fixers down the road.  We at Green Works provide professional service and exceed expectations with each and every project we undertake. As the top Contractors Los Angeles area we're ready and excited to help get you started on your green home improvement and provide quality and value above all else. Contact Us to get in touch with one of our knowledgeable representatives today, and make your vision become a reality.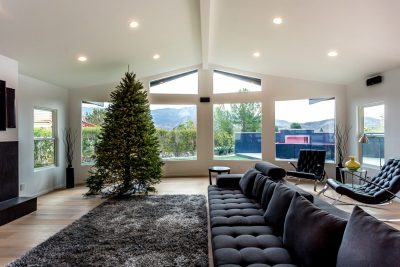 March 25, 2020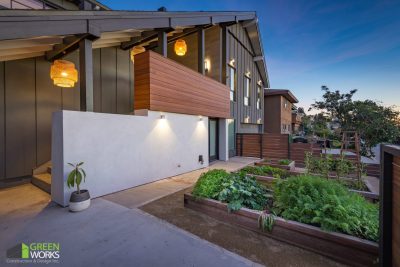 March 21, 2019