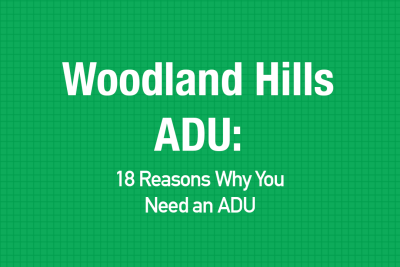 Woodland Hills ADU: 18 Reasons Why You Need an ADU
July 24, 2023
---
Woodland Hills ADU: 18 Reasons Why You Need an ADU
Are you considering expanding your property in Woodland Hills, Calabasas, San Fernando Valley, Encino, Tarzana, Winnetka, Chatsworth, Granada Hills, Sherman Oaks, Studio City, or North Hollywood? A Woodland Hills ADU near me could be the perfect solution. Here are 18 reasons why investing in an ADU might be your best decision yet.
Reason 1: Increased Property Value
One of the primary reasons to consider a "Woodland Hills ADU near me" is the potential increase in property value. ADUs can significantly boost your property's market value, making it a smart investment. Real estate experts often point out that homes with ADUs attract a higher price tag.
Especially in competitive real estate markets like Calabasas or San Fernando Valley, this extra dwelling unit could provide a considerable edge. An ADU is an investment that not only offers immediate advantages but also pays off in the long run should you ever decide to sell your property.
Reason 2: Additional Rental Income
Another compelling reason to invest in a Woodland Hills ADU near me is the prospect of extra rental income. By renting out your ADU, you can generate a consistent income stream, helping offset your mortgage payments or fund other investments.
In popular residential areas like Encino or Tarzana, the demand for rental properties is consistently high. This means that with an ADU, you can take advantage of this demand to secure a reliable source of income.
Reason 3: More Space for Loved Ones
An ADU is an excellent way to provide more space for your loved ones. Whether you want to have a space for your aging parents, visiting relatives, or returning adult children, a Woodland Hills ADU near me can meet these needs.
The flexibility of an ADU means that it can be adapted to suit your family's needs, providing a convenient solution for multi-generational living.
Reason 4: Work from Home Space
In today's world where remote working has become the norm, having a dedicated home office has become increasingly important. An ADU can serve as the perfect workspace, allowing you to create a home office away from the main living areas.
Whether you're based in Winnetka or Chatsworth, having a Woodland Hills ADU near me can provide the professional environment you need to stay productive and focused while working from home.
Reason 5: Flexibility
When you have an ADU, you have options. This space can serve multiple functions over time – an office, a guest house, a rental property, or even a personal gym or studio. The possibilities are limitless.
An ADU can change as your needs evolve, making it a flexible addition to your property that can serve various purposes throughout the years.
Reason 6: Privacy
A Woodland Hills ADU near me provides a separate space for guests or tenants, ensuring everyone's privacy. The separate living quarters allow your guests or tenants to live independently without intrusions.
In busy areas like Granada Hills or Sherman Oaks, having a private space for your visitors or tenants can be a major draw. An ADU can offer the perfect balance of proximity and privacy.
Reason 7: Cost-Effective
Compared to the cost of buying a larger house or a separate property for rental purposes, building an ADU can be a more cost-effective option. The construction costs are often lower as ADUs are smaller and don't require land acquisition.
If you're considering expanding your property in regions like Studio City or North Hollywood, a Woodland Hills ADU near me could be a budget-friendly solution.
Reason 8: In High Demand
As urban living becomes denser, the demand for ADUs is on the rise. People are looking for affordable, compact living spaces, making ADUs a hot commodity in today's real estate market.
This trend is expected to continue in the future, making an ADU a future-proof investment.
Reason 9: Quicker Construction
Building an ADU is typically a quicker process compared to traditional home constructions. Since they're smaller and less complex, ADUs can be built in a shorter timeframe, allowing you to use or rent out the space sooner.
A faster completion time means you can start enjoying the benefits of your ADU sooner rather than later.
Reason 10: Better Use of Space
If you have unused space on your property, an ADU can be an excellent way to maximize its use. Whether it's a vacant backyard or an unused garage, transforming it into an ADU can bring in various benefits.
Instead of leaving your valuable land unused, why not turn it into a productive space with a Woodland Hills ADU near me?
Reason 11: Aging in Place
For seniors who want to age in place, an ADU can offer a comfortable and independent living solution. You can design an ADU to be senior-friendly with all the necessary amenities, allowing the seniors in your family to maintain their independence while staying close to their loved ones.
In this way, an ADU provides a solution that supports the needs of aging family members while giving everyone peace of mind.
Reason 12: Increased Housing Supply
By building an ADU, you contribute to increasing the local housing supply, helping alleviate the shortage of affordable housing in your community. In areas where housing is in high demand, ADUs can make a significant impact.
Building a Woodland Hills ADU near me is, therefore, a decision that can benefit not only you but also your local community.
Reason 13: Lower Environmental Impact
ADUs tend to have a lower environmental impact compared to larger homes
. They use fewer resources to build and maintain, and due to their smaller size, they typically use less energy for heating and cooling.
Building an ADU can be a step towards a more sustainable lifestyle.
Reason 14: Design Control
When you build an ADU, you have full control over the design process. You can customize your ADU to suit your preferences and needs, creating a space that reflects your personal style.
Whether you want a minimalist modern ADU or a cozy rustic one, the design is entirely up to you.
Reason 15: Opportunity to Diversify Your Investment Portfolio
Adding an ADU to your property is a great way to diversify your investment portfolio. Real estate is often considered a safer investment compared to other forms of investments like stocks or bonds.
By investing in an ADU, you're adding a tangible asset to your portfolio that can generate a consistent income stream.
Reason 16: Keeps Loved Ones Close
Having an ADU on your property allows you to keep your loved ones close while giving them their own space. Whether it's your parents, grown-up children, or other family members, an ADU provides a way for families to stay connected while maintaining their privacy.
Creating this balance can lead to a more harmonious living situation for all parties involved.
Reason 17: Appeals to a Broader Market
If you ever decide to sell your property, having an ADU can make it more appealing to a broader market. Potential buyers will see the additional living space as a bonus, whether they plan to use it for rental income, a home office, or a space for their family members.
A Woodland Hills ADU near me can make your property stand out in the competitive real estate market.
Reason 18: Independence for Young Adults
For families with young adults, an ADU can serve as a stepping stone towards independence. It can provide a space where they can live independently while still being close to home.
An ADU can offer a balance of independence and support, easing the transition to adulthood for your young family members.
In conclusion, building a Woodland Hills ADU near me provides a multitude of benefits. From additional income to creating space for loved ones, an ADU is a versatile addition that brings value to your property and life.