Tech Influence on the Los Angeles Building Industry
March 17, 2020
---
This past decade, Los Angeles (especially West LA) has been vastly reshaped and rebuilt, and most notably, recharacterized as the third-largest tech bubble in the U.S. This influx of newcomers into the greater LA area has unavoidably altered landscapes, rebuilt entire neighborhoods as if overnight, and redefined local businesses. One of the most notable differences describing the contrast between pre-tech and now is the impact it's had on the building and architectural industry.
With so many rough and outdated neighborhoods undergoing gentrification, we see a shocking number of homes up for sale, under renovation or remodel, as well as entire tear-downs taking place all throughout West and East LA. Homeowners who have lived in some of these changing neighborhoods are experiencing a large evolution to their streets, increasing the value of their properties, and making their homes exceptionally desirable, to a quite unexpected degree. Though unanticipated, this has been a positive outcome for a lot of homeowners. Many are now interested in generating passive income with their homes, retrofitting them as vacation rentals to effectively monetize via Airing, VRBO, or Home Away- while others opt for ADUs to rent out as a studio/loft apartment. These additions are proving to be a worthy investment, with our current booming vacation rental industry dominating the hospitality industry and putting the business back in the hands of the people, the shift is now away from large hotel franchises of past.
In contrast, due to rising property taxes, there are also a lot of people now deciding to sell and profit off of their home's immense value appreciation. With such large demand for property in West LA, newcomers are buying and renovating or tearing down and starting over to create their own little slice of heaven closer to these tech hubs stretching from Palos Verdes all the way to Malibu and beyond. With a contemporary distaste for the classic Los Angeles traffic-inducing commute, these new wave techies are much more inclined to find housing as close to their companies as possible. The days of commuting 2-3 hours during the workweek are less common, thus putting value and demand on certain nearby hot spots. Silicon Beach's influence has imprinted the necessity for new green standards in the building industry, as well as adopting a novel reliance on technology to compete with this modernized standard of exquisite craftsmanship and bespoke design.
Another residual effect of the tech influence upon Los Angeles Contractors and architects has been the introduction of many new building technologies and apps that help to maximize efficiency, streamline production, and simplify the entire process. Increased use of drones, prefabricated materials and parts, as well as smart construction gadgets, have all helped bring the building industry into this modernized world. Thousands of young workers entering into building today bring with them a willingness and adaptability to use technology in a way that simply wasn't present or valued in this industry just a decade before. These shifting demographics and technologies have rejuvenated and reevaluated an entire Southern California landscape in just a few short years. Showing little sign of slowing down anytime soon, it may be a wise move to invest in that new home remodel you've been putting off. As housing prices continuously rise year after year, it only makes sense to put in value now, so as to maximize a fantastic ROI down the road.
If you're looking for a room addition contractor Los Angeles, kitchen remodeling woodland hills or Bathroom Remodeling Malibu Ca it's never been easier to source contractors and building companies for the job. However, attempting to source the best contractors Los Angeles, complete with a fantastic building team and an emphasis on sustainability, is not always easy. Though there are many building companies to choose from, you want to ensure your contractor is a great fit. Considerations such as design aesthetic, building standards, ethical material sourcing, time and budget management and overall quality all play into selecting the right team. Companies that are proven to be eco-forward and environmentally sound during the building process, as well as in the overall design and plans are also exceptionally crucial factors to consider these days. There is little tolerance for bad building practices and cheap material use in today's climate impacted world. Go with a contractor that caters to all of these concerns.
Finally ready to begin your long-awaited home improvement project? Whether it be an interior or exterior remodel, a bathroom or kitchen renovation, or an exciting new ADU, Greenworks Construction is the team to realize your design dreams. Contact Us to get in touch with one of our knowledgeable representatives today, and make your vision become a reality.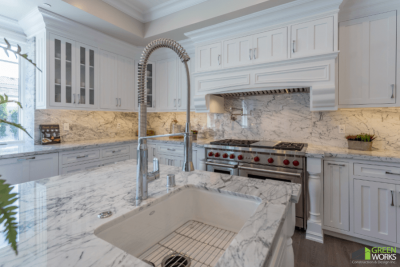 January 16, 2017
February 14, 2020