How to Choose the Right Materials for Your L.A. Home Remodel
March 5, 2019
---
If you've made the decision to transform your property with Greenworks, you're already one step ahead of the game. Now, it's up to you to turn your home into an ROI-boosting, breathtaking property that will turn heads and impress neighbors for years. So how do you do it, and where do you start? Simple. Using a combination ROI-friendly projects such as kitchen remodeling and bathroom remodeling with some exterior remodeling for curb appeal, you'll be able to make your home truly yours. But before you get started, there are a few things you should know about designing your dream home.  First, not all materials are created equal, and even if you're working on a tight budget, it's helpful to prioritize purchasing the right materials for your space over getting the project done quickly and under budget. If you're lost and need guidance, here are a few things to keep in mind when restoring and remodeling your home.
Optimize Your Space
Before you decide where to begin, start simple. As a homeowner, you probably already have a solid sense of where your home's weaknesses lie. Could your bathroom use some sprucing up? Is your exterior siding looking the worse for wear after a recent storm? Could you commit to creating a more open, intuitive kitchen floorplan rather than having to trip over yourself just to make your breakfast in the morning? Even if you don't want to start with a larger project like a kitchen or bathroom remodeling, you can start thinking critically about what elements would help take your space to the next level. For instance, maybe you're not ready to commit to a full kitchen remodeling, but that doesn't mean you can't start thinking about what kinds of materials could help optimize your space. Think about what kind of countertop you'd like to work with: choosing a lower-cost material like laminate could help keep the job under budget, but you might be able to save more in the long run by investing in a heat-proof material like sealed granite or marble. If you're someone who spends a lot of time cooking and entertaining, paying attention to detail is going to serve you well in the long run.
Boost Your ROI
Remember, it's not just what's in your home that counts. Potential buyers and passersby are going to judge your home on outward appearance just as much, if not more, than by how it looks on the inside. That means that if you haven't paid much attention to outdoor landscaping, exterior remodeling, or hardscaping, it could end up hurting you when the time comes to sell. Before you think about different low-cost ways to spruce up your outdoor area, try thinking about boosting your home's value and drastically raising curb appeal by getting a new, robust material for your home's siding. Using an exterior remodeling project to strengthen your home against the elements while protecting it from dirt, mold, and mildew buildup will help you sell more quickly and keep your home's interior protected against the elements at all costs.
Bathroom and Kitchen Remodeling First
You might want to jump right into a full-scale interior remodeling project, but not so fast. If you're budget conscious and don't want to spend all your money in one place, it's best to space out your home improvement projects and only do a little work at a time. Using Greenworks construction, you can easily plan a kitchen remodeling project and an exterior remodeling job within the same year without having to feel like you're living in a construction zone. Getting your home to look and feel the way you want it to is an ongoing process. That's why starting with the rooms in your home that will have the biggest impact when the time comes to sell will help you figure out how to prioritize your improvement projects. Studies have shown that kitchen remodeling jobs can end up recouping up to 150% of their total cost after resale. Even if you're not planning on selling your home, it's hard to sneeze at that number. Creating a kitchen that's light, airy, functional, and can serve as a community space where the whole family can come together isn't difficult. It doesn't require a huge budget or even a lot of space. With the right help and the right accent pieces, you can turn even the tiniest space into a room that's enjoyable to spend time in. Bathrooms can be an even better investment, especially if you can find a way to remodel the space without having to rip everything up and rewire your plumbing. If you have a bathroom that feels too cramped, closed-off, or inaccessible, you owe it to yourself to invest in a bathroom remodeling project. Even if you only have the budget to invest in a new countertop or to convert your old tub to a luxurious shower chamber, it's worth it to get to turn a space you merely tolerate into a space you love. Before getting started on kitchen or bathroom remodeling, call Greenworks. With the right help from dedicated, licensed workers, your dream for a brand new home could be well within reach.
Never Sacrifice Style For Substance
Turning a promising property into a true home can be hard work. Even if you have the help you need and the budget to make it work, it's hard to know how to make the right moves when you're choosing materials, creating a layout plan, and figuring out which investments are actually going to pay off. That's why Greenworks is here for you. When you hire Greenworks for your kitchen remodeling or interior remodeling work, you're guaranteed quality materials, robust service, and a final product you'll be happy with. As a family-run business, Greenworks is committed to helping homeowners realize their dreams of a better life and a more beautiful home. If you have any questions about how to make your home the absolute best it can be or simply want to get a quote for a bathroom remodeling or exterior remodeling project, give us a call today.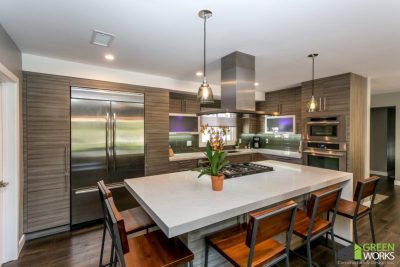 May 1, 2017
July 24, 2017
February 15, 2019