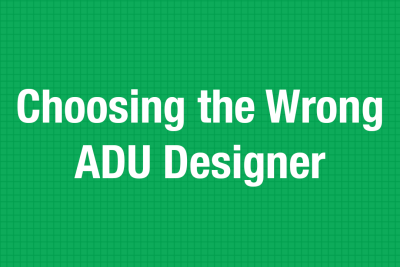 Choosing the Wrong ADU Designer
June 22, 2023
---
Choosing the Wrong ADU Designer: What to Look For
The Vital Role of an ADU Designer: Risks and Rewards
Choosing the wrong ADU designer can lead to many headaches and additional expenses in your project. Creating a functional and aesthetically pleasing Accessory Dwelling Unit (ADU) hinges on the choice of the designer. A well-qualified ADU designer brings homeowners' visions to life, transforming their properties into enhanced living spaces that provide additional accommodation or rental income. However, selecting an ADU designer without proper scrutiny can spell disaster.
Many homeowners underestimate the implications of choosing the wrong ADU designer. What they don't realize is that the wrong choice can give rise to an array of issues such as safety and structural concerns, financial setbacks, and even legal complications. An ADU design and construction project should ideally be an exciting and fulfilling endeavor, but a poor choice of designer can turn it into an absolute nightmare.
Inexperience and Lack of Expertise: A Dangerous Combination
The ADU design process is intricate and requires a seasoned hand. Choosing a designer with little experience or lack of expertise can lead to complications that may be hard to fix.
Misinterpretation of Building Codes and Regulations
Building codes and regulations for ADUs are notoriously complex and vary from one locality to another. It's easy for a novice designer to overlook or misinterpret these rules, leading to non-compliance. Choosing the wrong ADU Designer and getting this lack of compliance can result in serious repercussions, including hefty fines or the need for significant and costly modifications after construction.
Inefficient Utilization of Space
Efficient use of space is at the heart of good ADU design. A novice designer might not be adept at making the best use of available space, which could result in a poorly planned and cramped ADU. An experienced designer, on the other hand, would know how to optimally use every square foot, creating a comfortable living space that doesn't feel limited.
Poor Estimation Leading to Overruns and Delays
Project estimation is a skill that comes with experience. An inexperienced ADU designer might provide inaccurate cost and time estimates, which can lead to financial stress and extend the project timeline. Overruns and delays can cause significant inconvenience and lead to a souring of relations between the homeowner and the designer.
The Impact of Poor Communication and Vision Misalignment
The success of any ADU project depends largely on the relationship between the homeowner and the designer. A strong, positive relationship can lead to a successful project, while a strained relationship can spell disaster.
Communication Breakdowns
Clear and consistent communication is the bedrock of any successful design project. A designer who fails to communicate effectively can cause a lot of confusion, leading to errors and misinterpretations that could be costly to fix.
Misalignment of Vision and Goals
Your ADU should be a reflection of your vision, serving your specific needs and aspirations. A designer who fails to understand or respect your vision might produce a final result that does not align with your expectations. This could lead to dissatisfaction and the feeling that the project was a waste of time and money.
Lack of Customization and Personal Touch
Your ADU should not just be a functional living space; it should also be a reflection of your personal style. A designer who doesn't invest time in understanding your preferences and lifestyle might end up delivering a design that feels impersonal and generic, taking away the sense of pride and ownership you should feel for your ADU.
Price Over Quality: A Costly Mistake
Cost is undeniably an important factor when choosing an ADU designer. However, prioritizing price over quality can lead to a multitude of problems.
Quality Sacrifice for Cost-Cutting
Designers who offer significantly lower prices may do so by cutting corners, which can compromise the quality and safety of your ADU. This could lead to higher long-term costs due to necessary repairs and renovations.
Hidden Costs and Misleading Quotes
An initial low quote may not include all the necessary services, leading to hidden costs that surface during the project. It's essential to make sure the quoted price includes all aspects of the design process.
Limited Design Options
A budget designer may offer limited design options, restricting your ability to customize your ADU to your taste. This could result in a finished ADU that doesn't fully satisfy your needs or match your aesthetic preferences.
Conclusion: The Importance of Making the Right Choice in Your ADU Designer
Selecting the right ADU designer can make the difference between a successful project and a costly mistake. A well-chosen designer can help you navigate the complexities of ADU design and construction, delivering a final product that not only meets but exceeds your expectations. The right designer is an investment that pays off in the long run, resulting in an ADU that adds value to your property and enhances your lifestyle. With careful research and a clear understanding of what to avoid, you can find the perfect designer for your ADU project.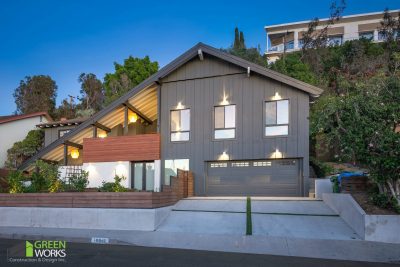 November 9, 2019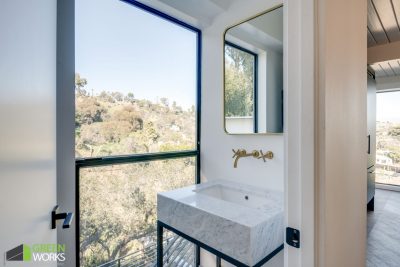 October 17, 2019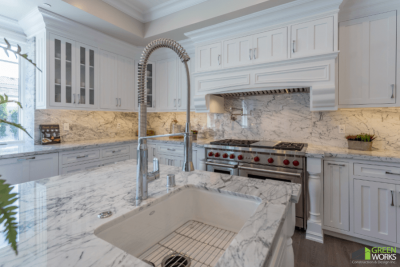 January 16, 2017