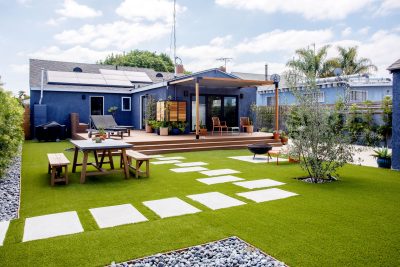 Los Angeles Backyard Remodel: Unleashing Your Space
May 23, 2023
---
Your Los Angeles Backyard Remodel: Unleashing Your Space
Los Angeles is renowned for its diverse architecture and innovative landscape design. This city's aesthetic essence is often integrated into outdoor living spaces, making a Los Angeles backyard remodel an exciting prospect. In this blog, we will explore various styles of backyard design, drawing on popular and trending options that may inspire you. "Unleashing Your Space: Styles to Inspire Your Los Angeles Backyard Remodel" will give you a glimpse into the world of tasteful exteriors, providing you with options that are sure to transform your outdoor living area.
Whether you are yearning for a tranquil garden oasis, a modern minimalist retreat, or a vibrant entertainment hub, there are countless design choices to suit your style. As we explore these themes, consider how each can be adapted to create a backyard remodel that speaks to your unique tastes.
Embrace the Natural: Rustic Style Backyard Los Angeles Remodel
Bountiful Plantings
The essence of a rustic backyard remodel lies in integrating the natural environment. For a Los Angeles backyard remodel in this style, consider introducing native Californian plants. These plants not only thrive in local conditions, but they also contribute to preserving the local ecosystem. Flowering shrubs, tall grasses, and ornamental trees can add texture and color to your backyard, creating a wild and yet soothing atmosphere.
Your plant selection should be diverse, emphasizing seasonality to ensure your backyard remains vibrant year-round. Choose a variety of perennials and annuals to create a backyard that's ever-changing and full of life. Concluding, don't forget about small water features to attract local birds, creating an idyllic, birdwatcher's paradise.
Rustic Structures
Structures are a defining element of rustic style design. Barn-style doors, wooden pergolas, or even a quaint treehouse can add charm to your Los Angeles backyard remodel. Consider materials that blend seamlessly into your environment, such as reclaimed wood, stone, and metals with a weathered patina.
Incorporate structures that provide shade and shelter, a crucial aspect given Los Angeles's sunny climate. A rustic wooden gazebo or pavilion can offer a lovely, shaded area for outdoor dining or relaxation. In the end, remember to add cozy elements like outdoor fireplaces or string lights to create a warm and inviting atmosphere.
Rustic Decor Elements
Lastly, rustic decor elements can tie your backyard design together. Think of antique garden tools, wagon wheel decor, and galvanized steel pots for a true rustic feel. The concept is to create a space that feels like a step back in time, while still maintaining modern comforts.
Remember to incorporate comfort into your design. Rugged outdoor furniture with plush cushions, a hammock strung between trees, or a porch swing can add a level of comfort to your rustic style. Adding textiles like throw blankets or outdoor rugs can also enhance the feeling of coziness and warmth.
Minimalist Modern: Los Angeles Backyard Remodel
Sleek Lines and Structures
A modern minimalist backyard remodel emphasizes simplicity, clean lines, and functionality. Geometric shapes and streamlined structures like rectangular decking, cubic planters, and straight paths will evoke a sense of calm and order in your Los Angeles backyard remodel.
When designing your outdoor space, consider using materials that enhance the modern aesthetic. Concrete, glass, steel, and minimalist wood designs can create a sleek, contemporary feel. Lastly, incorporate built-in seating or sleek outdoor furniture to maintain the minimalist design throughout.
Minimal Plantings
Minimalist backyards often feature restrained plantings, focusing on a few selected species rather
than a variety of colors and forms. Consider using ornamental grasses, small trees, or succulents that require minimal maintenance and water, keeping in line with the simplicity of the minimalist style.
Landscaping can be designed in an orderly fashion, with plants arranged in straight lines or geometric patterns. Using a monochromatic color scheme can further enhance the minimalist aesthetic. Ultimately, the goal is to create an outdoor space that is peaceful, uncluttered, and visually pleasing.
Subtle Decor Elements
In a minimalist backyard remodel, less is more when it comes to decor. Simple, functional pieces like a modern fire pit, streamlined lighting, or a simple water feature can add the final touch to your Los Angeles backyard remodel.
Choose outdoor furniture that follows the minimalist ethos, with simple lines and neutral colors. Avoid cluttering your space with unnecessary decor and remember that in a minimalist design, each element serves a purpose. Finally, remember that creating a minimalist backyard is about achieving balance and tranquility through simplicity.
Entertain in Style: Vibrant Social Backyard Remodel in Los Angeles
Functional Layouts and Features
Designing a vibrant social backyard starts with a layout that encourages gathering and interaction. Consider including various seating areas, an outdoor kitchen or bar, and plenty of open space for activities in your Los Angeles backyard remodel.
Your design can be as simple or elaborate as you desire. Incorporating elements like a pizza oven, barbecue pit, or even a full outdoor kitchen can take your entertaining game to the next level. Additionally, features like a fire pit or a hot tub can provide a relaxing area for guests to gather.
Lush Plantings and Colorful Blooms
A social backyard should feel lively and inviting. Integrating lush plantings and colorful blooms can significantly contribute to this ambiance. Choose a variety of plants with bright flowers and interesting textures to create a visually engaging space.
While selecting your plants, remember to consider their growth habits and care requirements. This will ensure that your backyard remains vibrant and attractive throughout the year. Lastly, consider adding fragrant plants to enhance the sensory experience of your outdoor space.
Outdoor Lighting and Decor
Lighting plays a crucial role in setting the mood for a social backyard. String lights, lanterns, or landscape lighting can create a warm and inviting atmosphere for evening gatherings. Consider lighting pathways, dining areas, and special features like trees or sculptures to enhance your backyard's aesthetic appeal at night.
Cultivating Peace: Zen-Inspired Los Angeles Backyard Remodel
Tranquil Water Features
In a Zen-inspired Los Angeles backyard remodel, water features play an essential role, adding an element of tranquility to your space. Ponds, waterfalls, or even simple tabletop fountains can create the calming sound of flowing water, fostering a peaceful ambiance.
While choosing your water feature, remember to consider the size and style of your backyard. A large pond might work in a spacious garden, but a compact backyard might benefit from a small waterfall or fountain. As a final touch, consider adding a few Koi fish to your pond, symbolizing good fortune and perseverance.
Zen Gardening and Plantings
Zen gardening is another essential element of this style. Think of a sand or gravel garden, often known as a Zen rock garden, where patterns are drawn with a rake to symbolize water ripples. These low-maintenance gardens are peaceful, contemplative spaces, perfect for meditation or simply appreciating the passing of time.
For plantings, choose trees and shrubs that have a calming aesthetic. Japanese maples, bamboo, and moss are classic choices that create a serene atmosphere. Try to aim for simplicity and naturalness in your planting design, mimicking nature's arrangement rather than enforcing symmetry or rigid structure.
Zen Structures and Decor
Finally, structures and decor in a Zen-inspired backyard remodel should promote peace and tranquility. Consider adding a small pavilion or pergola where you can sit, relax, and enjoy your garden. Use natural materials like wood and stone, aiming for a balance between the various elements.
For decor, less is more. A few well-placed stone lanterns, a Buddha statue, or a simple, rustic bench might be all you need. Remember, the primary goal of a Zen garden is to create a space for mindfulness and meditation, so ensure every element contributes to this sense of peace.
Luxury Resort Style: Los Angeles Backyard Remodel
Resort-Style Pool and Lounge Area
The focal point of a luxury resort-style backyard remodel is often a stunning pool area. If space permits, consider adding a pool with unique features such as a waterfall, swim-up bar, or infinity edge. For smaller spaces, a hot tub or plunge pool can offer a similar sense of luxury.
A well-appointed lounge area near the pool is equally important. Comfortable loungers, sunbeds, or cabanas can provide the perfect spot for sunbathing or enjoying a good book. Including a shaded area is also important, offering a respite from the Los Angeles sun.
Lush Tropical Plantings for Backyard Remodel
Nothing says resort-style like lush, tropical plantings. Palms, ferns, and other large-leafed plants can create a sense of luxury and escape. Brightly colored flowers, such as hibiscus or bird of paradise, can add splashes of color to your Los Angeles backyard remodel.
In addition to plants, consider other elements that enhance the tropical feel. A small waterfall, a koi pond, or even a sandy beach area can create a backyard that feels like a private resort.
Outdoor Dining and Entertainment Features
Lastly, no resort-style backyard would be complete without areas dedicated to dining and entertainment. An outdoor kitchen with a barbecue grill and bar area can make outdoor dining a pleasure. Consider also including amenities like an outdoor sound system or a projector for outdoor movie nights.
For seating and dining areas, choose furniture that is comfortable and durable. Teak or wicker furniture with plush cushions can add to the resort-style aesthetic. And to top it all off, consider including a fire pit for cozy evening gatherings.
No matter the style you choose for your Los Angeles backyard remodel, the goal should always be to create a space that reflects your personal style and fits your lifestyle. Whether you want a tranquil oasis, a social hub, or a resort-style retreat, the possibilities are endless. So, get creative, and make your backyard a space you truly enjoy.
February 14, 2020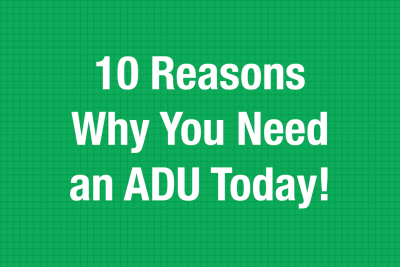 July 10, 2023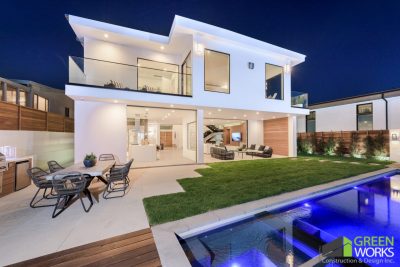 January 11, 2020